"Hey Tim. Thank you so much for a fantastic night and the video. I just shared it to the group. Everything went perfect and we had such fun. Everyone was completed exhausted today but they absolutely loved it. A big shout out to you and MJ. You two were great. We loved every minute of it.
Thank you for last night's tour. I thoroughly enjoyed myself. Maxxx and Antonio were excellent hosts. I felt looked out for with them. I really appreciated the tour since we might have found these places on our own but chances are we would have stayed at one all night and not bar hopped.
My birthday tour was great and my birthday definitely more memorable!
Offering the bar tour for more than nine years, the Gay Vallarta Bar Hopping Tour is Puerto Vallarta's oldest. The price for those who want to join this group is $1,200 pesos up to $2,850 pesos ($99 USD to $129 USD) depending on the choice of the package, dinner and drinks or just drinks.
Thanks Andrew Christian for the gifts to all those celebrating special events and group tours. Guests love the hats and bags! Mike and Colin are big fans seen from the Atlantis 2018 tour!
We all got to the ship safely. Thanks so much for the extra care and for making it a great and smooth evening. Jason B repeat Atlantis Tour guest pictured right.
Thanks so much for showing us a GREAT time last evening! We enjoyed the hospitality and look forward to returning and seeing you again!
Gay Bar Hop hosted all the media journalists in town for PV Pride 2018 and presented them with gift bags from our sponsor Andrew Christian.
Charly and I had a blast on the Gay Bar Tour! It was a great tour. Hugs and see you soon!
Tim, Thanks so much for a fun tour on Saturday!
We had a blast! We weren't a large group but we had heart! The guys were great and we had a lot of fun! Take care and see you next year.
I had a great time and you guys put on an awesome entertaining event. Thanks again.
Thanks for the private tour last night. I really enjoyed learning about PV and your wealth of knowledge around the gay community.
It was a very fun night. We really enjoyed it and appreciated the beautiful balloon. We are coming back to PV in September to join you!
Thank you so much for such a wonderful evening! Tell MJ thank you as well! It was a great night. I've given your info to the hotel here cuz they are interested in providing your service to others. You guys are the best!
It was a blast!! Late morning in bed this am. Thanx Again! Steve-Thanks for the awesome memories! It's much appreciated. Thank the guys for me too, and hope to see you all before we leave.
We can't thank you and MJ enough for a great time! MJ was amazing and made us feel very welcome and comfortable. He made sure we had a great time! Everything was incredible and we thoroughly enjoyed ourselves!
Things can get particularly friendly at night, when Puerto Vallarta rivals Provincetown, Palm Springs and Key West with its options for entertainment and bar hopping. Best to enlist the aid of a professional, such as Tim Wilson, who founded Gay Vallarta Bar Hopping as a way to introduce visitors to the myriad good times.
Had a blast thanks Tim! We will see you next time!
What a blast we had on my birthday tour! Max and Bryan wer the most perfect hosts. They took EXCELLENT car of us. You were right a smaller group was much better. The others on tour were perfect companions. Thank you so much. This was the great start to a great vacation. Thank you so much for such a wonderful and entertaining evening last night. You made Samantha's birthday celebration so special! We had a blast and will definitely being doing it again!
Max was awesome tour guide. Although this is my third time in Vallarta, each trip brings a different experience. It makes complete sense to me why so many Americans purchase property down here and create life for themselves. This place is very addicting. Thank you for the experience!!
AWESOME Fun!… THANK YOU GUYS SO MUCH for the Fun, Laughs, & Balloons.. Great way to celebrate a birthday and bring in the new year with new friends.
Steve and I, had a BLAST on our Gay Bar Tour and Honeymoon Dinner!!! Thank you soooooo much for everything! You were an incredible host and Max and Raul were wonderful guides. We enjoyed meeting David (hottie) and our California friend during our tour. It was a stroke of genius to schedule our tour on election night; otherwise I would have been obsessively at my computer and very very depressed as the night wore on. As it was, we were aware, but having too much fun to really let it sink in until we arrived back at the resort. What a great memory with you guys!
Thanks Gay Bar Hop. Everyone in our 25 person group had a great time thanks to you and your team. Everything was well organized and ran very smoothly. I will make sure we cross paths next time we visit PV.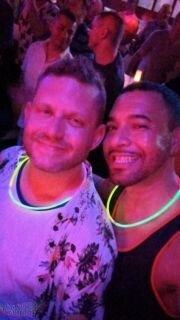 Wes Hargreaves
WOW! First time in PV and took a chance on booking a bar tour so we could get a sense of the scene. So glad we did! Zack and Maxx were AMAZING. Took the time to get to know our group and not only did they put together a great tour but also provided lots of "pro tips" on PV nightlife. Started out the night as tour guides and ended it as friends. Highly recommend this tour. 💖 Brian Harris
The staff are funny and great with visitors. The bars are very nice here in Puerto vallarta. This was are first visit. Since we did not know many places to go,the bar hop was perfect for first timers. A 10 Leo Guerrero
If it is your first time in Vallarta or if you are somewhat shy you will love taking this tour, the treatment is excellent (thanks Tim)
Feel free to share your thoughs with us, and let the world now how fun was your experience!
Or choose any of the places below to leave a review there.