Featured in/Thanks from:
Tim, It made it back to my hotel safe and sound. Thank you and Zach again for the wonderful evening! Rob F. Pictured right below April 4, 2022.
Hi Tim. Everyone had a great time and it was great getting to see you again. Hopefully, it won't be another 5 years before the next one. Thanks for sending over the swag also!  Jason V. January 31, 2022 tour.
"Hey Tim. Thank you so much for a fantastic night and the video. I just shared it to the group. Everything went perfect and we had such fun. Everyone was completed exhausted today but they absolutely loved it. A big shout out to you and MJ. You two were great. We loved every minute of it." Jennifer C. December 18, 2021 tour.
Thank you for last night's tour. I thoroughly enjoyed myself. Maxxx and Antonio were excellent hosts. I felt looked out for with them. I really appreciated the tour since we might have found these places on our own but chances are we would have stayed at one all night and not bar hopped.  Rudolph New York  December 3, 2021.
My birthday tour was great and my birthday definitely more memorable!-Milburn S. November 7, 2021 tour
Offering the bar tour for more than nine years, the Gay Vallarta Bar Hopping Tour is Puerto Vallarta's oldest. The price for those who want to join this group is $1,200 pesos up to $2,850 pesos ($99 USD to $129 USD) depending on the choice of the package, dinner and drinks or just drinks.
Atlantis 2018 Puerto Vallarta Tour by Andrew Christian
Thanks Andrew Christian for the gifts to all those celebrating special events and group tours. Guests love the hats and bags! Mike and Colin are big fans seen from the Atlantis 2018 tour!
Oct 17, 2018 Atlantis Tour
We all got to the ship safely.  Thanks so much for the extra care and making it a great and smooth evening.  Jason B repeat Atlantis Tour guest below pictured Right.
Sept 14 2018 Tour
Thanks so much for showing us a GREAT time last evening! We enjoyed the hospitality and look forward to returning and seeing you again! Walter and Nate- Atlanta Georgia
Pride 2018 Press Tour May 26 2018
Gay Bar Hop hosted all the media journalists in town for PV Pride 2018 and presented them with gift bags from our sponsor Andrew Christian.
April 28 2018 Tour
Tim, Thanks so much for a fun tour on Saturday! Rich F. below pictured right.
March 17 2018 Tour
We had a blast!  We weren't a large group but we had heart! The guys were great and we had a lot of fun! Take care and see you next year. G. Cook-Repeat Guest pictured left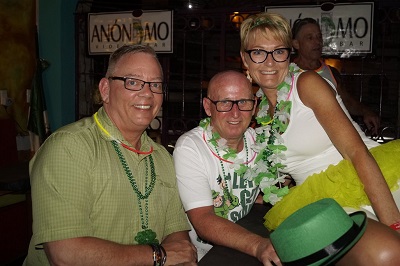 December 8, 2017 Tour
I had a great time and you guys put on an awesome entertaining event. Thanks again. Robert N.
Private tour July 1, 2017
Thanks for the private tour last night. I really enjoyed learning about PV and your wealth of knowledge around the gay community. Kent P.
Benjamin and Partner Honeymoon Tour May 26 2017 Tour
It was a very fun night . We really enjoyed it and appreciated for the beautiful balloon 
. We are coming back to PV in September to join you! Benjamin L.
Keith and Matt Honeymoon Private Tour May 6 2017
We can't thank you and MJ enough for a great time! MJ was amazing and made us feel very welcome and comfortable.  He made sure we had a great time! Everything was incredible and we thoroughly enjoyed ourselves!
Matt and Keith M pictured below.
Maria and Anne Marie's Bachelorette Tour April 20 2017
Thank you so much for such a wonderful evening! Tell MJ thank you as well! It was a great night. I've given your info to the hotel here cuz they are interested in providing your service to others. You guys are the best! Maria H. (right) celebrating honeymoon in Puerto Vallarta with her spouse Anne Marie.
Chantal gave Steve a surprise 40th Birthday tour! Chantal -It was a blast!! Late morning in bed this am. Thanx Again! Steve-Thanks for the awesome memories!  It's much appreciated. Thank the guys for me too, and hope to see you all before we leave.
Had a blast thanks Tim! We will see you next time! Osvaldo and Rigoberto-Chicago PV repeat visitors 1st tour
Things can get particularly friendly at night, when Puerto Vallarta rivals Provincetown, Palm Springs and Key West with its options for entertainment and bar hopping. Best to enlist the aid of a professional, such as Tim Wilson, who founded Gay Vallarta Bar Hopping as a way to introduce visitors to the myriad good times.
March 11 2017 Samantha's Birthday Tour
What a blast we had on my birthday tour! Max and Bryan wer the most perfect hosts. They took EXCELLENT car of us. You were right a smaller group was much better. The others on tour were perfect companions. Thank you so much. This was the great start to a great vacation. Rene and Samantha pictured below.
Thank you so much for such a wonderful and entertaining evening last night.  You made Samantha's birthday celebration so special!  We had a blast and will definitely being doing it again! Derik pictured below.
GAY BAR HOP IN MARDI GRAS 2017
Jan 31 2017 Private Cabaret Tour
Max was awesome tour guide. Although this is my third time in Vallarta, each trip brings a different experience. It makes complete sense to me why so many Americans purchase property down here and create life for themselves. This place is very addicting. Thank you for the experience!! Kito B.
JAN 20 2017 Tour David's 58th birthday
Thanks so much for making my 58th birthday so much fun!   It was a delightful evening.  I enjoyed everything about the evening.   I haven't stayed out past 3am in 30 years.   We went to 2 more bars after;  I think for total of 7.   It was great.   The guides were great;  friendly and knowledgeable.   I have a tendency to feel awkward going out to the bars.  I don't drink.   But I think  4 of us were all drinking water after the fourth  bar.   Whether people were drinking alcohol or water,  we all had a great time.  It was so much fun just watching all the guys having a good time.  There were 4 or 5 of us dancing up at storm at 2:30am.     Thanks again,  David S. Pictured above
Dec 31 2017 NYE Tour and Tony's 50th birthday
AWESOME Fun!… THANK YOU GUYS SO MUCH for the Fun, Laughs, & Balloons.. Great way to celebrate a birthday and bring in the new year with new friends. Tony pictured below right
Dec 10 2016 Tour featured in Out and About Nashville
Nov 8 2016 Steve and Joe's Honeymoon on Atlantis Tour
Steve and I (bottom left) had a BLAST on our Gay Bar Tour and Honeymoon Dinner!!!  Thank you soooooo much for everything!  You were an incredible host and Max and Raul were wonderful guides.  We enjoyed meeting David (hottie) and our California friend during our tour.  It was a stroke of genius to schedule our tour on election night; otherwise I would have been obsessively at my computer and very very depressed as the night wore on.  As it was, we were aware, but having too much fun to really let it sink in until we arrived back at the resort. What a great memory with you guys! Joe B.
Nov 13 2016 Zac's 40th and Neil's 60th Birthday
Thanks Gay Bar Hop. Everyone in our 25 person group had a great time thanks to you and your team. Everything was well organized and ran very smoothly. I will make sure we cross paths next time we visit PV. Neil's 40th birthday
Nov 1 2016 Atlantis Cruise Puerto Vallarta Bar Hop
Thank you for a wonderful time last night! We enjoyed every moment, and MJ was a great guide. Rahn H.
Bill and I had a blast with you on the Atlantis evening. All the guys did a fabulous job. Thank you for one fun night. Regards Tim F.
Mike and I both had a ball on the tour – everyone was so wonderful and it was the highlight of our week!  We will definitely be back to visit soon! Hugs and warm regards to you and all the boys! Jeff R.
We had a blast on the Atlantis Bar Tour. This was our first cruise on Halloween and to Mexico together. Boyd M.
The Bar Crawl was one of the highlights of my trip, thank you so much for putting it together, I'd definitely like to do it again.  Fun! Fun! Fun! Omar H.
We had SUCH a wonderful time on the tour! I definitely felt the fun the next morning…lol. Thanks so much for putting it together for us and for the AMAZING photos and video. WE LOVED THEM!! You'll see us again sometime soon…for sure! Brent M. (below left) celebrating the big 4-0.
August 26 2016 Tour
Charly and I (pictured below last two on right) had a blast on the Gay Bar Tour! It was a great tour. Hugs and see you soon! Kevin H.
August 25 2016 ManaboutWorld Magazine LGBT Travel Guide to Puerto Vallarta by Ed Walsh
The Gay Vallarta Bar Hopping tour is a great introduction to the gay nightlife scene and a must for first-time visitors.
August 8 2016 Scruff Tour
Jorge and I(pictured below right) had a great time!!! It was a pleasure meeting you and Max yesterday. Max was completely professional and a great tour guide. Thank you for a fun evening and I look forward to seeing you again soon! Mike H.
August 2016 Windy City Times  by Jerry Nunn (pictured below Right)
To test out the bars Vallarta Gay Bar Hopping Tour that lasts more than five hours. The VIP treatment is the only way to go at Blondies with a spectacular view and shots to top it off. Wander over to Wet Dreams for go go dancers or Open Night Club for packed crowds. Mr. Flamingo is one of the newer venues but is astounding in popularity thanks to groovy tunes from the '90s and open air drinking.
May 31 2016  The Advocate 23 Photos of Paradise Puerto Vallarta Gay Pride
May 28 2016 Block Party after Pride Lazaro Cardenas Parque
Mr Gay Bar Hop in the after Party Vallarta Pride 2016
May 28 2016 Pride Bar Tour
Clem and I (pictured Right) had a great time on the bar hop and have said so on tripadvisor.  We were really impressed at how well organized it was.  Your hard work and dedication is clearly paying off.  Thanks to you and Max.  It was a pleasure meeting you! Matthew E.
Vallarta Pride 2016 Press Tour
May 26 2016 Gay Bar Tour hosted 20 LGBT media and bloggers for the largest press trip in Puerto Vallarta history.  Special thanks to Villa Savana, Fusion Gourmet, Blondies PV, and Reinas for making that night possible and for your cooperation.
Dailyxtra May 20 2016 6 Great Ways to Celebrate Vallarta Gay Pride 2016
Take the Vallarta Gay Bar Hopping Tour
No Pride would be complete without a visit to some of the local watering holes. And Puerto Vallarta is at no loss for hosting some of the most vibrant and accepting bars, clubs and pubs in the region. Come join a group of fellow partiers and wet your whistle — at least — at a selection of the best haunts in town.
May 20, 2016 Thank you so much for putting on such a wonderful tour, and more so, thank you for having such a warm and friendly personality. JayR and I had a fantastic time and would recommend your amazing tour to anyone who visits PV! David G. Pictured Left
May 7 2016 What a blast!!! Our friend Kevin (pictured below center celebrating his 30th with (R)Topher Dimaggio and Matt  O'Reilly (left) will be recovering until his 40th!! Thanks again. M. Switaj
May 8 2016 Just wanted you guys to know how much I enjoyed the bar tour. Who knew that sticking a bunch of strangers together could be so much fun? The clubs were great and the dinner venue was perfect and delicious. Best wishes for continued success with the tour. It's a "must-do" when in P.V.! Thanks. S Browning (pictured below.)
April 9 2016 Mickey and I are coming back to PV. We loved every minute of the April 9, 2016 tour and plan to do it again during our next visit in July 2016. M Mellard
ADVOCATE.COM March 23 2016
VIP travel packages for Vallarta Pride 2016 are available here and include a beachfront hotel, breakfast, Pride access, and two of Puerto Vallarta's most popular excursions: the Gay Vallarta Bar Hopping and gay boat cruise.
March 18 2016 Tour C Dietrich: Just letting you guys know, the tour was awesome and we will recommend you guys for sure.
Feb 6 2016 Ladies Tour Mary Beth Polony pictured below left  "Just wanted to say we had a wonderful time last night. It was such a pleasure to spend time with you and Nick!!. Thank you very much for such a personalized tour. Wow..What a Fantastic way to experience the night life!"
Feb 20 2016 Tour Mike and Tom.  We had a wonderful time. It was nice to do something different and meet new people. See you soon!
New Year's Eve 2016 Tour Michael and John. We had a great time. I only wish we didn't have to go home the next day. We will be back. Thanks for all your effort in making the evening wonderful
NANCY ROEDER and DAVEY WAVEY YOUTUBE 
Nancy Roeder the Youtube friend of Davey Wavey decides to come to Puerto Vallarta to find her best new gay friend. She goes on Gay Bar Hopping tour to find him. We visit Mr Flamingos, Wet Dreams, and Reinas.
MASHABLE February 2016
Gayvallartabarhopping in Puerto Vallarta for Spring Break Gay Travelers.  Our party tour walks on the cobblestone streets, under the beautiful trees and passes the pier.
METRO WEEKLY Jan 2016
PV has happening bars and clubs like La Noche and C.C. Slaughters. Puerto Vallarta's  Gay Vallarta Bar Hopping  and Wet & Wild Gay Cruise tours are legendary.
Frontiers LA
Homorazzi 
WeHo News
Tips de Viajeros

Quirkytravelguy
Dailyxtra
NewNowNext
QX.se